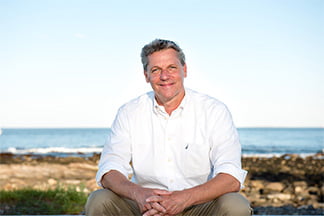 Attorney Justin C. Caramagno is the principal of the Law Offices of Justin Caramagno, P.A. He was born in Washington, D.C. and graduated from the University of Maryland with a Bachelor of Science Degree. He then went on to Tulane Law School in New Orleans where he earned his Juris Doctorate in 1987. Justin is a member of the American Bar Association, the New Hampshire Bar Association, the New Hampshire Association for Justice and has even taught law courses at the University of New Hampshire.
He has handled cases at all levels of the New Hampshire legal system and has practiced before many state agencies. In his 29 years as a New Hampshire personal injury attorney, Justin has helped hundreds of clients and handled a wide range of cases including those involving wrongful death, premise liability, workers compensation, on road collisions, slip, trip and falls, and even plane crashes. Justin is known for his dedication and tenacity while handling every case and has recovered many millions of dollars for his clients over the years.
Attorney Caramagno is also committed to the equal access to justice for all citizens regardless of their ability to pay. Justin is a past recipient of the New Hampshire Bar's "Rockingham County Pro Bono Attorney of the Year" award and is an active member of the New Hampshire Bar Association's Reduced Legal Fee program. He is passionate and committed to the principle that everyone should have access to legal representation when needed and he works hard to ensure a level playing field in his community.
Our office is organized and responsive. We understand your ongoing need for timely information as your case proceeds. We pride ourselves on our client accessibility and we strive to return all phone calls on the day they are received. Call (603) 431-5504 today for your free legal consultation